Time attendance /Workforce Management
As they say "Punctuality is the soul of business"
With our cutting edge solution, all your 'Time attendance / Workforce Management' challenges will become a thing of the past. Our web-based, Biometric, RFID Smartcard technology, together with our SmartTime application, a full featured enterprise level Time and Attendance solution incorporating labor cost management and job rostering facilities in one solution. Our solution converts the raw data into useful information for managers to make decisions.

You will be able to automatically award the correct pay rules i.e allowances, hours of OT, OT types, work day rules, shift rules so that the worked hours are always given the correct payouts, including  holiday rules as well as shift types.
Reports
Different managers require different reports. Our solution will empower you to obtain all your needed business reports for managers to make decisions.
HR will require Time Attendance Reports, Leave and HR Reports
Financial Controllers will require Labour Cost Reports
HR, Financial and Operational managers will require Business Analysis Reports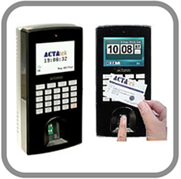 Time keeping
ACTAtek Smart Time does all Time Keeping Analysis in short steps:
Setting up Database, Award Interpreter (only needs to change when pay rules change)
Automatically generates the Roster – Manual edit is also available
Authorization of the Time Keeping Reports
Reports are automatically generated
This is probably the most efficient way to manage time attendance. It eliminates the unnecessary process associated with manual edits, manual rostering, manual approval and manual generation of reports.